Students: 9861
Classes: 15
Professors: 14

De-Gnoming with...
by Kolyander
Go-Go Racing on the...
by Kolyander
School-wide "The...
by Kolyander
CoMC Lesson One:...
by Kolyander
Seventh Floor: Room of Requirement
by Kolyander
If this is your first visit, be sure to check out the FAQ by clicking the link above. You may have to register before you can post: click the register link above to proceed. To start viewing messages, select the forum that you want to visit from the selection below.
| | |
| --- | --- |
| HoM: Rules & Expectations | |
Term 62: September - December 2022
Term Sixty-Two: The Gift of the Peeves (Sept 2108 - June 2109)
08-27-2021, 03:49 AM
HoM: Rules & Expectations
---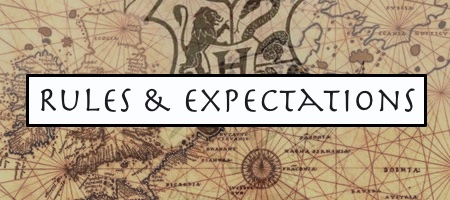 Dear Student,

On the first day in my class, I will hand you this letter which outlines my philosophy towards the History of Magic, rules of this classroom, and my expectations of you (the student) and myself (your Professor).

Philosophy:

A certain translucent predecessor of mine would perhaps have told you that History of Magic was a class solely focused on "dealing with facts ... not myths and legends". While this is all important and a great exercise in retention of data, I prefer to be a little more- let's say - open-minded to the History of Magic.

My expectation of you in this class is to learn the facts of the historical figures and events but be able to articulate a persuasive opinion on what happened. This class will teach you about Goblin Rebellions, Wizard's Councils, the Ministry, Modern Wizarding Economics and whatnot. More importantly this class will teach you to develop a pointed opinion on historical events and take key lessons away to apply them to the future.

After all, what is the point of history class if not to learn from our mistakes?

What I expect from you:

Know that I will hold you to a high standard. That goes for academics and professional manner. I expect you all to be civil and treat one another with respect. In-fighting, bickering, and whatnot shall not be tolerated. Any student failing to do so can fully expect not only to write me an essay on the topic of my choosing but will also have the pleasure of serving a very tedious detention. And yes, I'm fully aware that this comment may warrant an eye roll but I'm good at making detention tedious and boring. I'm a History of Magic Professor after all. Binns' did leave a very thorough note.
Respect is a must. Respect of yourself, your peers, and your Professor. This class requires discussion. Meaningful and constructive dialogue is encouraged in this class and requires a degree of mutual respect, willingness to listen, and tolerance of opposing points of view. Respect for individual differences and alternative viewpoints will be maintained at all times in this class. One's words and use of language should be temperate and within acceptable bounds of civility and decency. Anyone unable to do so will be asked to leave the classroom.
Timely attendance is mandatory; Participation is a must
Expect the Unexpected. Now you may be a little shocked that I included this in my last point but please - do the pre-work before coming to class. I will not hesitate to call on you and ask for your opinion. And no - my Crup or my familiar eating my homework is not a valid excuse.
You are expected to do your own work. Cheating, plagiarism and any other form of academic dishonesty will not be tolerated.
No food shall be allowed in the classroom.


What you can expect from me:

I truly care about each and every one of your educational development. You are the future. It is our responsibility as Professors to help ensure you have the right tools at your disposal as you grow yourselves and your careers.
If you do not understand a topic or an assignment, ask for help. Do not assume. I will always give help to those who ask.
I will be available to you in office hours posted on the noticeboard. If you need to make additional office hours, please see me at the beginning or end of your lesson.
I will be prepared for class, on time, I will not leaving early, I will be respectful you and your opinions.

Now I look forward to a fantastic year of exploring the History of Magic.

Best,



Professor Holden

OOC RULES:

All SS RPG Rules and SS Rules apply at ALL TIMES.
SECOND RULE: OOC VS IC- SIMON AND I ARE DIFFERENT PEOPLE. We are both Australian... and we may be similar at times ... BUT Simon Holden is a fictional character. Shannon (Watson) is not. IC actions shouldn't be taken OOC or vice versa.
Please don't edit your posts unless if its for a coding issue.
As Professor Holden said, "plagiarism" will not be tolerated. This means DO NOT copy & paste responses directly from the internet and taking them as your charrie's own. PLEASE DO rewrite the answer it into the character's own words as best as possible. .
Please remember that only ONE of your student characters is allowed in each class. Please make sure to clearly identify which character you are posting, either in the contents (please make sure to include their name at least ONCE in your first post) or as the title of your post. You must keep this character throughout the lesson.
Let's have some FUN! This is an RP. Not real life school (as much as Simon may wish ). The aim of this activity is to have fun! If you don't know an answer, please don't stress.
Posting Rules

You may not post new threads

You may not post replies

You may not post attachments

You may not edit your posts

---

HTML code is Off

---
All times are GMT. The time now is
03:12 PM
.