Students: 9847
Classes: 15
Professors: 15

CoMC Lesson 1 - TBA
by sweetpinkpixie
Charms Lesson 1 - TBA
by Lady of Light
Technology? Lounge
by Chelliephone
Arithmancy Lesson One
by ArianaBlack
Flying Lesson 1 - Flip
by FearlessLeader19
If this is your first visit, be sure to check out the FAQ by clicking the link above. You may have to register before you can post: click the register link above to proceed. To start viewing messages, select the forum that you want to visit from the selection below.
| | |
| --- | --- |
| Professor Williamson's Hut | |
Term 58: May - August 2021
Term Fifty-Eight: Have Some Bread (Sept 2104 - June 2105)
04-13-2020, 06:10 PM
Professor Williamson's Hut
---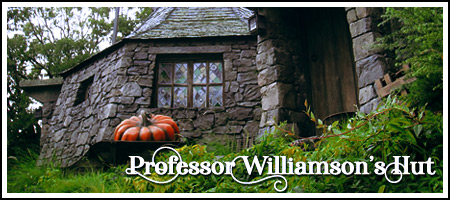 The office of Professor/Groundskeeper William Walter Williamson rests in an old stone hut out on the grounds, not too far away from the edge of the magical creature sanctuary and the pasture where students usually attend Care of Magical Creatures lessons.

In addition to being an office, the hut is where Williamson lives and spends most of his time when he's not outside. Need something? Just knock. But because it is a small(ish) living space here, don't be offended if you're not immediately invited in. Outside the hut are a few weather-worn green and silver hand-painted wooden benches, which are comfortable enough to sit and wait a spell in case Williamson is busy tending to some creatures and not just ignoring your knocking in favor of a nap.

If you are invited inside the hut, you may be surprised at the general warmth and woodiness of the interior. A lot of high-quality woodwork has been preserved inside the structure as William has continuously worked on cleaning the place and installing some beadboard to lighten up the walls. Atop the large fireplace are a few pots and potions, most related to tending creature-related injuries, but some of which may be used in cooking. Additional homely but functional items, like a handmade quilt, copper tea kettles, cast iron pots and pans, a decent-sized kitchen table with six chairs, an overstuffed green plaid chair, and a soft leather couch fill out the rest of the main room. The hut is certainly bigger on the inside than it appears at first, but there are only a few personal items in sight: one of which is a complete collection of Chocolate Frog cards, framed and resting on a trunk in the corner, and the other which is a framed photo of a beautiful, fashionable, dark-haired woman in mid-laugh.

There are often creatures, creature food, and creature accessories scattered around the room, usually on the kitchen table where William tends to dump everything. But don't let that deter you. Just sit down on the couch or at the table and have a cuppa while you talk about creatures.

Oh, and don't mind the addition of his dog-ter (daughter) as of 2093: a black-and-white cruppie named April. Her pink and purple plaid dog bed is in the corner by the fireplace. Watch out if she's not in it! She LOVES to deliver playful nips and licks to the ankles.
05-08-2021, 03:57 AM
#2 (permalink)

DMLE & DIMC

Erkling




Join Date: Jul 2011

Location: Bikini Bottom

Posts: 20,914


Hogwarts RPG Name:
Victoria Gellar

Second Year


Ministry RPG Name:
Jessica Tomás

International Cooperation


Ministry RPG Name:
Scott Ferguson

Law Enforcement


Diagon Alley Employee:
Randall Stavros

Weasley's Wizard Wheezes

x4 x1

A Poop * k8 *

---

She had needed some time to settle in. V had told herself to try and settle in and see if she could manage.

That lasted approximately...three days. On the third day of lessons, she couldn't take it anymore, and she found herself sniffling outside the groundskeeper ////// creatures guy's hut. Did she WANT to be sniffling? NO. She tried to wipe her eyes on her sleeve quickly after she knocked, hoping he would be there. She had been told to come talk to him, after all.



....*SNIFFLE*

__________________

hiss.__________________________________________________ _BOOM.

hiss.
Posting Rules

You may not post new threads

You may not post replies

You may not post attachments

You may not edit your posts

---

HTML code is Off

---
All times are GMT. The time now is
12:28 PM
.