Students: 9860
Classes: 15
Professors: 13

DADA Lesson #1
by Charely Potter
Greenhouses Grand...
by astrocat
Sixth Floor: Music Classroom
by astrocat
Grounds: The Lake
by FearlessLeader19
Basement: Fruit Bowl
by AlwaysSnapesGirl
If this is your first visit, be sure to check out the FAQ by clicking the link above. You may have to register before you can post: click the register link above to proceed. To start viewing messages, select the forum that you want to visit from the selection below.
| | |
| --- | --- |
| The Gryffindor Gazette | |
Term 32: September - December 2012
Term Thirty-Two: Revenge of the Spirit (September 2078 - June 2079)
04-14-2012, 10:32 AM
The Gryffindor Gazette
---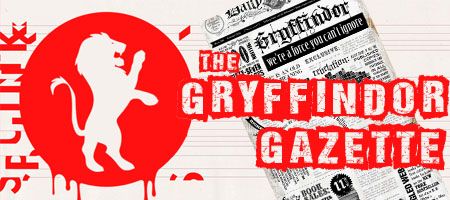 graphics by sweetpinkpixie
The Gryffindor Gazette is a student run publication, written and distributed to Gryffindor students only. The Gazette is published on a regular basis and contains any and all information pertaining to the going-on's in the school. Current news on Quidditch tryouts/practices/results, classes and homework as well as any other school events will be explained for your convenience.

In addition to this, the Gazette offers a unique reading experience and is student centred, so if you're a good little lion, you might just get an honourable mention.

By keeping you informed, it offers us the chance to gain the most house points in the term! Look, learn, strive and succeed!

However, publishing for the Gryffindor Gazette is restricted to the Gryffindor Prefects, Quidditch Captain, and Approved Editors ONLY. The Approved Editors will be chosen within the first week of the term. If you wish to submit something for the Gazette, then you must contact one of the approved editors or your Head of House.

Your editors are:
Kurumi Hollingberry (sweetpinkpixie)
Gideon Gert (Macavity)
Selina Skylar (fanficfanatict)

09-05-2012, 04:48 AM
#2 (permalink)

Wizarding World Admin
Minister for Magic
Gladrags Mod

DoM & MO


Alley Proprietor



Veela




Join Date: Aug 2010

Location: Etheria

Posts: 37,915


Hogwarts RPG Name:
Atlas Flamsteed

Gryffindor

Sixth Year


Hogwarts RPG Name:
Mitsuki Rasting

Ravenclaw

Third Year


Ministry RPG Name:
Charles Hollingberry

Minister's Office


Ministry RPG Name:
Airey Flamsteed

Mysteries


Diagon Alley Employee:
Zachaël Lufkin

Owl Post


x12 x12

astronomizzle ♧ gryffinDORK | & the rest is drag ♣ #badluckDerf

---




Welcome to Gryffindor

*:.。. .。.:*・゜゚

During your time at Hogwarts, Gryffindor Tower will be your home away from home. Here you can come and relax in the Common Room with your friends, or take a short nap on the couch between classes, mind of course you won't be late. The Study Tables are available to all students and it is a great place to get together and tackle home work assignments as a team, after all, we can all do with a little support. Come night time, the Girls and Boys dormitories will be your haven. Just remember to respect the House Rules and do not sneak into the opposing genders dorms. Triumphs will earn you points... but rule breaking will cost you points. Don't forget to introduce yourself to your housemates as well! Let's make this a memorable term for Gryffindor House.


Professor Seren Bentley

Helpful Places to check out*:.。. .。.:*・゜゚・*:.。. .。.:*・゜゚・*:.。. .。.:*・゜゚・*

Hogwarts can be a very big place, even for a lion, so here are a few places that your lion leaders think could be especially important for you to check out during the term.

What in Merlin's Beard . . . ? (Term 32)

Been a little absent or feeling as though you've missed something? Not sure what's going on around the school? Here's where you can get caught up as well as post things having to do what's been happening here in Hogwarts this term!

SS Hogwarts RPG Archive

This section of the RPG is where old threads and lessons have been placed from previous terms; please note that not everything from past terms were saved, the threads that were placed there are important in some way.

Hogwarts School FAQ

Find Sorting and Term Information, General School FAQ and Role Playing in the School info here.

Question Thread

Here's where you can ask any questions related to the RPG School you may be pondering over; whether it be a staff member or student, someone will answer your question.Of course, you can ALWAYS PM your prefects, Quidditch captain, or Head of House with any questions or concerns you may have.

Hogwarts RP Information Forum

The home for the Merlin's Beard thread and other School OOC information. This forum is where you will find all helpful and informative threads directly pertaining to the School RPG. Many of the threads are discussion type threads either started by a school staff member or student (with the permission of the current Headmaster), and you are more than welcome to contribute to them. Remember everyone has their own opinions and be respectful of that while discussing.

SS Hogwarts Haven

Where SS Hogwarts RPG fans can gather to chat about the school, professors and students (in a respectful manner, of course). There's also several other things, such as character bio's, games, school related graphics and more. -- For those who aren't in the FC, you won't be able to see this place. However, we encourage you to join! Go to 'User CP' towards the top of your screen, then scrolling down to the 'Miscellaneous' section you'll see 'Group Memberships' click that then find 'School RPG Addicts' and there you go!

SS Board Rules

All SS rules apply everywhere and anywhere you go around the site. I'm sure you've all read them before, make sure to keep them in mind at all times.

Lionly Advice

*:.。. .。.:*・゜゚

Want to help the Lions win the House Cup? Really, this is a question that shouldn't even be asked because as lions we always seek the best and to be the top of the food chain. In order to do that, here is some advice from one lion to another.

Respect your teachers and classmates...ALWAYS.
If you come online while the class is already going on, do not announce that you are late. Simply act like your character's been there the whole time, otherwise teachers will deduct points from our house. The easiest way to make sure of this is to look for posts by the Professor.
Do not do anything without the professor's permission. Whether it is leaving the classroom, performing a spell, or speaking, make sure you have read their post in its ENTIRETY and follow instructions.
Unnecessary chatting in the classroom will not be tolerated and could cost Gryffindor precious house points!
NO OOC comments in your posts. If you have an issue, please send the professor a VM or a PM.
When the teacher asks a question, ALWAYS raise your hand when answering. The quickest answers as well as the most creative answers can be rewarded with house points. Keep in mind that it isn't a race and be sure to put thought into your answers. Don't just copy off everyone else OR copy straight from the internet.
Please be patient if the professor doesn't answer you straight away. We all live in different timezones and have other responsibilities in real life, so it is possible the teacher had to leave for a few minutes/hours.
While we all want to be like Hermione and know the answer to everything and perform spells perfectly on the first try, this is unrealistic. It is FUN to RP your character struggling and getting things wrong. We all make mistakes, why should our characters be any different? Try to keep your characters acting like how a student their age would be. No first year would be able to perform nonverbals for example. There is NO shame in your character failing at something, and creative RPing is encouraged! You could actually earn MORE points for Gryffindor this way.
Subscribing to the Gryffindor Announcement Board and classes when they open up is a very EASY way to keep up to date with everything and is HIGHLY recommended!
Be creative and have fun!

Captain's Announcement

*:.。. .。.:*・゜゚

Hello you lot and welcome back from summer holiday! This is Selina, your Gryffindor Quidditch Captain, here to tell you all about the upcoming Quidditch related events this term.

Coming up rather quickly are the Gryffindor Quidditch Try Outs. If you are a first year with no experience or a seventh year who has been on the team since you were sorted, all lions are encouraged to try out for the team. Experience and age do not matter at all. Anyone who wants to try out for the team and can ride a broom should come down to the Pitch this weekend to sign up for try outs. Also, all lions who previously held a spot on the Gryffindor Quidditch team MUST try out again for this term's team. Just because you were on the team last year does not mean that you will be on the team this year. All spots will be awarded to those who EARN them on the Pitch. That means bring your A game, folks.

Following the sign ups for the team, I will post a list of dates for the actual try outs. These try outs will take place out on the Pitch and all of you should bring a broom- first years, you get can grab an extra broom down in the broom shed. No, I will not let you borrow my broom the day of try outs, so just bring a bloody broom. All those who wish to be considered for the team must attend AT LEAST TWO Try Outs. The try outs will be one hour long sessions and will be spread out over the course of a few days.

Once the try outs have been completed, I will sit down with Professor Bentley and we will compile a list for the Gryffindor Quidditch Team. Bentley and I both look for good, strong flyers for the team, as well as active members of the Hogwarts community. You must attend at least one of your classes to be considered for the team. However, once you make the team you must remain an active and positive part of the lion pride. Even if you do not make the team remember that we represent Gryffindor everyday and that means we must uphold some sort of pride and dignity for our house.

Enough ragging on you lot... just go down to the Pitch... sign up for the try outs... and come and try out! ROAR, ROAR GRYFFINDOR!

Oh, by the way, if any of you have seen a beater bat by the name of Mortimer could you please contact me? He is about three feet long, he's black and is probably missing his Mommy. Help reunite us. Thank you.





Lion Spotlight

*:.。. .。.:*・゜゚

Each issue, your student leaders and Head of House will select one special lion that not only represents the house of Gryffindor, but gives back to the school and the RP IC and OOC. This issue, the house of Gryffindor is proud to present Dylan Jacobs(MagicalWorld)!



1) How did you feel when your Hogwarts letter arrived?
I was surprised at first but then ran around the house screaming for joy at the top of my lungs. When my father finally caught with me he asked what was wrong with me and I showed him my letter before resuming my run and finally jumping around. Finally I would be able to have a wand and everything to have fun with!
2) What lesson are you looking forward to the most?
I would say Defence Against the Dark Arts, I mean who doesnt want a glimpse of those Dark Arts. Although I would like to see some awesome Magical Creatures too.. so that could be a draw between the two. Getting to see Magical Creatures like dragons and stuff as well all that Dark Arts stuff.
3) What do you like to do in your spare time? Any hobbies?
In my spare time I like to have alot of fun, I have been known to pull the odd prank or two. I dont enjoy doing anything else except to have alot of fun as much as I can, with whoever or whatever I can. Oh! and I like to fly on my broom that I got from my father. Dont do much as far as hobbies go.
4) What is your favorite magical sweet?
I like those Bertie Bott's Every Flavour Beans cause its always fun to try and figure out the flavour before you actually eat the bean. I am sure I got me a spicy pumpkin flavoured one once, it was orange with these tiny red specks on it.
5) How did it feel to be sorted into Gryffindor? What does being a Gryffindor mean to you?
It feels great to be sorted into Gryffindor cause everyone knows its the bestest house in the whole school! Being a Gryffindor means being brave, daring and all that stuff when you need to be. Maybe being brave in standing upto someone or standing up for someone. Being in Gryffindor means that I will be amongest others who are like me and that will be ideal seeing as I will be spending the next seven years living with them.

OOC:
1) How did you find SS?
I was recommended the site by a very close friend of mine who knew I was looking for a Harry Potter related game online to play, so I googled the site, came along and finally joined.
2) How long have you been on SS?
Not too long I joined at the beginning of July this year so still very new at this so haven't had a chance to really look at everything.
3) What is your favorite part of SnitchSeeker?
My favourite part is the RPing side, where you get to meet alot of people through the characters that we have created. But I am also attracted to all the creative things on here, the artwork, the craftwork and graphics.. might try my hand at those as well cause I love all of that.
4) Why do you like to RP?
It helps me to meet alot of other HP fans that I might not otherwise meet because of the lack of confidence within me or lack of fans in my area. This way I also get to meet alot of awesome people like Pixie (sweetpinkpixie), Danielle (DaniDiNardo) and I have to say that even we havent talked alot I feel that Em (Hera) is an awesome person too, all of whom are in different timezones to me. All in the matter of less than a week, thats why I like to RP to meet all the awesome HP fans just like myself.
5) Why Harry Potter?
Cause it takes me into the magical world where I can pretend that the world actually exist and that I am actually at Hogwarts or Diagon Alley or somewhere else within the Magical World waving my wand or brewing a potion or something else, and also just to have a lot of fun basically


Want to be a Spotlighted Lion? All you need to do is be an active positive force in the RP! Next issue you could see yourself here!


Prefect Corner

*:.。. .。.:*・゜゚

For seven terms now I have had the honor of being a part of Gryffindor House and four of those have been spent serving as one of your prefects. I am pleased to be able to welcome all of you, new lions or not, to the House where the brave at heart dwell. When I first came to Hogwarts I did not fully understand what it meant to be a Gryffindor and honestly thought that the Sorting Hat had placed me here by mistake. But I was wrong. Being a Gryffindor means many different things and the crimson and gold speaks to us all in a unique and deeply personal way and I hope all of you feel welcomed and appreciated as members of not just a house, but a pride. I am looking forward to getting to know each and every one of you!


Kurumi Hollingberry

Welcome back to all returning lions and a roaring welcome to all those joining our pride. For those who don't know me, I'm Gideon Gert one of yer prefects for this term, the second time around as well as being a seventh year. Feel free come to me with yer questions or just to say hi. I'm told the curly hair makes me easy to spot in a crowd. Remember, the best way for ye to make the most out of the year is to be active, whether in class activities, Gobstones, events and of course Quidditch. So take part, hang out with friends (and make new ones) and just have fun.


Gideon Gert

It's Purrfect :: advice from the cat & his girl

*:.。. .。.:*・゜゚

Did your cauldron explode? *Do the Professors treat you unfairly? Does that boy/girl you have a crush on not even notice you? Well, fear not. We here at the Gryffindor Gazette are here to help you!

Send in your concerns, questions and problems and we will try and give you some healthy advice on how to deal with it. Resident Prefect, Kurumi Hollingberry, will walk you through the steps to feeling better about your life and situation. Although her cat, Walnut, may have some quips of his own.

The Meow *:.。. .。.:*・゜゚


By now you may all be familiar with the Hogwarts gossip rag called The Aparecium, but did you know that Gryffindor has one of its own? Well, now you know! The Meow is a for Gryffindors, by Gryffindors, and about Gryffindors. Got a juicy piece of gossip to share? Simply send us an owl.

__________________

red, red desert, heal our blues; I dive deeper for you..............

what a blessing to feel your love; twilight promised me you.........

all these moments with you...

Posting Rules

You may not post new threads

You may not post replies

You may not post attachments

You may not edit your posts

---

HTML code is Off

---
All times are GMT. The time now is
02:25 AM
.