Students: 9868
Classes: 15
Professors: 14

Muggle Studies TLA:...
by Lottiepot
Professor Paton's...
by FearlessLeader19
Charms Cabana
by FearlessLeader19
If this is your first visit, be sure to check out the FAQ by clicking the link above. You may have to register before you can post: click the register link above to proceed. To start viewing messages, select the forum that you want to visit from the selection below.
| | |
| --- | --- |
| Grounds: The Domes | |
Term 63: January - April 2023
Term Sixty-Three: The Calm (Sept 2109 - June 2110)
12-27-2022, 12:20 AM
The Domes
---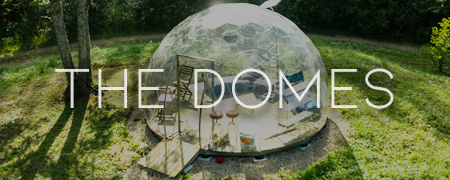 Graphic credit: Felixir
A little way off the path between the castle and the lake stand several half-sphere outdoor shelters, known as the domes. Made from a sturdy and clear, charmed material that keeps the temperature inside relatively comfortable, and the air fresh, the main purpose of the domes is a location to hang out, alone or with a few friends. They also serve as impromptu shelters during sudden downpours, cool relief from the summer heat, or a place to warm benumbed fingers and toes during bitingly cold winters. Each is accessible by a simple door made of the same material. No need to reserve them - just make sure no one is already there before entering!

The domes are near to each other, but not clustered too close together. They are completely transparent; those outside can see in, and those inside can see out. Occupied domes will light up - though the light has no obvious source - useful and downright cosy on overcast or gloomy days. The groundskeeper, and any staff member looking out of the windows on this side of the castle, will be able to see the domes if they're lit up after dark, so unless you want to light the 'hey, look at me, I'm out after curfew' beacon, don't even bother coming this way. Better yet, don't break curfew at all. Javier does not take kindly to kids messing around on his grounds after curfew.

Each dome contains five comfortable chairs, and can comfortably hold as many students, maybe a couple more if you don't mind a tight squeeze. Try to refrain from seeing how many students can fit inside one of these things at once. Getting a score of kids hopelessly stuck will not have a good outcome for anyone, but it's up to you if you want to test that theory out for yourself.
04-04-2023, 03:01 PM
#26 (permalink)

DMC & DERP

Plimpy




Join Date: Aug 2014

Location: Everywhere

Posts: 15,391


Hogwarts RPG Name:
Hadleigh Renee Paton (DarkGreen)

Slytherin

Graduated


Hogwarts RPG Name:
Bryony Rose Paton (#FF69B4)

Slytherin

First Year


Ministry RPG Name:
Oceanus Zunther (#bfc2cb)

Ecological Protection

x12

Otter This World ♡ Catpurrccino ♡ Slotherin ♡ Pandamonium

---

Quote:

Originally Posted by

Lottiepot


Aurora found it difficult to conceal her excitement as the cute kitty came over for some attention. The problem she found with cats was there were two different types. The types like Uncle Bradley's weird looking hairless Sphynx who would only accept fusses on HIS terms and gave you the stink eye if you interrupted his sleep in any way. But then you had the cats like her Ma's cat Darcy and obviously Kanga who wanted fusses all the time. Aurora loved them all the same, it was just a shame that not all cats reciprocated that love. She reached down to tickle underneath the cats chin and then stroke her head a few times. She patted her lap, hoping that Kanga might like to have even more cuddles.

The other girl settled in a seat and Aurora packed away her homework deciding that this was definitely not the occasion to do it and that she would attempt it again later that evening. Maybe she'd even ask her sister for help too although she feared that Ariadne might find it annoying to be disturbed from her own OWL preps. "It's amazing!" She grinned. "Did you know there's winged horses in the stables?" Because to the animal crazy eleven year old that was clearly the most exciting thing about the school. It was also a stupid question because obviously a fifth year would know everything about Hogwarts.

Yessss, good little hooman giving her all the attention that she as a purrfect kitty deserved. Chin scratches and head pats were her thing. So were cuddles. And she was more than happy to leap right up onto the young blondes lap and stand there staring right up at her 'Hi! Hello, small girl who isn't my hooman but is petting me!'.

Yes, she saw Aurora putting her things away which meant she likely had distracted her from something but hopefully it wasn't from anything too important. "I do! They're beautiful, aren't they? Are you a fan of winged horses?" Smiles warmly as she was a fan of creatures her buuuuuut being a cousin to the CoMC professor most of her family had a love of animals.
Posting Rules

You may not post new threads

You may not post replies

You may not post attachments

You may not edit your posts

---

HTML code is Off

---
All times are GMT. The time now is
02:38 PM
.