Students: 9859
Classes: 15
Professors: 12

Dance Planning Meeting
by Chelliephone
Grounds: The Boathouse
by Lady of Light
Animagus Training...
by MadAlice
Seventh Floor: Owlery
by MadAlice
If this is your first visit, be sure to check out the FAQ by clicking the link above. You may have to register before you can post: click the register link above to proceed. To start viewing messages, select the forum that you want to visit from the selection below.
| | |
| --- | --- |
| The Whomping Willow | |
Term 60: January - April 2022
Term Sixty: TBA (Sept 2106 - June 2107)
12-24-2021, 05:56 PM
The Whomping Willow
---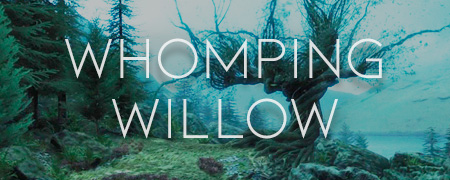 Graphic credit: Felixir
The Whomping Willow is a valuable, and extremely violent, sentient magical tree. It has stood on the Hogwarts grounds since 1971, surviving several battles, a collision from a flying Ford Anglia, and thousands of reckless daredevil students. The violent flailing of its limbs serve a well-known purpose in protecting the hidden pathway beneath its roots, and though this passageway to the Shrieking Shack has fallen into disrepair, finding a way to touch the trick knot on the tree's trunk will still calm its movements. For a moment, anyway.

Students are reminded to maintain a safe and respectful distance from this tree, no matter how curious or reckless brave you're feeling. The Whomping Willow will not hesitate to attack anyone who comes within reach of its branches. Violent, magical trees are not exactly known for being easygoing, and nor are irritated groundskeepers happening upon children taking unnecessary risks. You have been warned.

OOC: Please do not RP exactly for the Whomping Willow.
03-02-2022, 05:25 AM
#26 (permalink)

DERP & DMGS

Grindylow




Join Date: Sep 2007

Location: State of Confusion

Posts: 14,095


Hogwarts RPG Name:
Evan Nam

Ravenclaw

Sixth Year


Hogwarts RPG Name:
Vera Brinley Thanatos #fea116

Gryffindor

First Year


Ministry RPG Name:
Rosemary Giana Scardino

Games & Sports


Ministry RPG Name:
Guowei "Gray" Russell-Liu

Ecological Protection


Diagon Alley Employee:
Braylon Mikael Sawyer

The Leaky Cauldron

Anashti l Brat Pack l Sally & Dr. Finklestein

---

Evan would have verbally assured that no harm, no foul but he was still working on the mouthful of snow, so as he flopped himself over he just gave a wave of his hand to brush off the apology, followed by a quick thumbs up. He'd just not been expecting it was all, and thankfully no pain for him. The powder was fairly soft. Finally upright and sitting, snow melted, there was nothing to stop the snort at Jude's teasing. "Rush, Raggy." He fired back, having decided full mouth had made him sound very much like Scooby Doo.

The tree.... wanted to have fun? The magical world really was odd. It had been enough to have a tree with violent tendencies, but not it was possibly playful as well? How was one to ever trust it's moods? Evan eyed it suspiciously, waiting to see if any of the other branches were going to unleash a flurry on them. "Do you think we're supposed to... engage? What happens if we throw snow back at it?" Actually he was nervous to try that. Best to not. "You should probably swing by kitchens for a cup of tea or something before you head to your dorm." In the spirit of not getting sick.

As for him? The Ravenclaw started to push himself up out of the snow, 'accidentally' throwing some over at Jude in the process. "Just used to taking a daily walk. Padme likes routines, and I guess I do too. It's too cold for her to go out but not me. What brought you out here?"
03-03-2022, 01:34 PM
#27 (permalink)

WWW & Potterdom Mod
Newbie Mod



DIMC & DMGS

Wrackspurt




Join Date: Oct 2005

Location: SHIELD's Helicarrier

Posts: 206,677


Hogwarts RPG Name:
Aria Mae McLeod

Slytherin

Fifth Year


Hogwarts RPG Name:
Ryder Jude Anders

Hufflepuff

Fifth Year


Ministry RPG Name:
Lucas Riley Hawthorne

Games & Sports


Ministry RPG Name:
Brody Hawthorne

International Cooperation


x12 x12

~ Mrs Steve Harrington ~ Marvel-ous Patronus

---

No apology needed. Jude got that message loud and clear from Evan's one gesture. He just sort of stared at his friend for a bit, watching Evan struggle. It was endearing to watch, honestly. However, he caught himself when Evan spoke up again. Jude found himself laughing. Oh, yes. He got that reference thanks to the time he spent watching movies and shows with Keigh. "I think I've got a Scooby Snack somewhere,'' he shot back.

"Oh, no! I'm not engaging in a snowball fight with the Willow! One throw from it really packs a punch!" All the evidence was clear from him and from Dawn, and he won't be encouraging Evan to get into that sort of activity with the tree, of all things. "A cup of tea or two,'' the Hufflepuff agreed. "You and Dawn should come along too." It would serve none of them well if they got sick afterwards.

Making snow angels was oddly peaceful and Jude was enjoying himself. The next thing he became aware of was that soft, cold substance falling over him - on his face and across his chest. "Wha-?!" It took him a second longer to figure out that Evan was the cause, though he couldn't tell if it was intentional or not. It didn't matter. Jude wiped the snow from his face then casually dragged the hand farthest from Evan along the ground. In the process, he scooped some snow up then just as casually, threw it at his friend. "Poor Pads. She must be sad having to be stuck inside. Maybe she found Ned and they're hanging out,'' he replied, as though he hadn't just thrown a good handful of snow on Evan. "My silly self thought it was a good idea to take a walk." Now look at him: cold, he had a numb face and he was on the ground. On the bright side? He was in Evan's company and making snow angels.

__________________

It doesn't matter what we do, all silhouettes with no regrets.

When I'm melting into you 'cause I belong in your arms.
Posting Rules

You may not post new threads

You may not post replies

You may not post attachments

You may not edit your posts

---

HTML code is Off

---
All times are GMT. The time now is
09:31 AM
.