Students: 9860
Classes: 15
Professors: 13

Fourth Floor: Mirror
by Watson
Grounds: The Whomping Willow
by Chelliephone
Basement: Fruit Bowl
by Peeves
Grounds: The Climbing Tree
by Chelliephone
Barns and Pastures
by Chelliephone
If this is your first visit, be sure to check out the FAQ by clicking the link above. You may have to register before you can post: click the register link above to proceed. To start viewing messages, select the forum that you want to visit from the selection below.
| | |
| --- | --- |
| Law Enforcement: Work Areas | |
Level Two
Department of Magical Law Enforcement
06-02-2021, 09:28 AM
Work Areas
---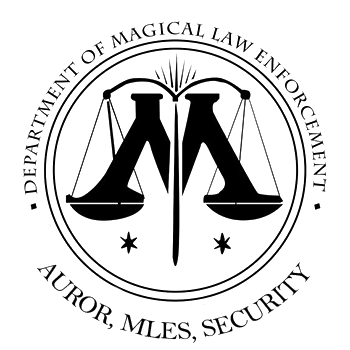 NORTH SIDE WORK AREA

At one end of the department you will find the work areas for MLES, Aurors and Security employees. Most don't spend too much time at their desks as they are likely out on assignment or patrol duty. Each of the division heads has an office should you need to stop by for a word. If you can't find who you're looking for, ask Muriel over at the reception desk to help you.

During major investigations the area is flooded with employees and perhaps witnesses who have been brought in to wait. On one wall there are many pictures and documents pinned with information from current investigations. Another wall and above many of the desks are moving posters showing the most wanted criminals in the Wizarding World. When they are caught they are magically marked with a large red X.

Every Auror, Hit Wizard and MLES Officer has their own desk here. YATIs do not have desks, but will earn them once they have completed their training. The Head of Security, the Event Security Liaison Officers, and the Internal Investigations Liaisons have their own permanent desks, while the Ministry Sentinels, Security Officers and Wand Weighers work between this office and the Security post in the atrium and do not have personal desks of their own; plenty of spare desks are available for hot desking.

Please be aware of your surroundings in this area. No one likes a snoop. You don't want to be top of the list if things go missing.

Halfway between the north and south side work areas, you will find the door to the dedicated Neo-Alliance Investigation Offices.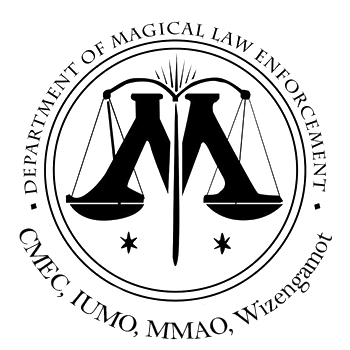 SOUTH SIDE WORK AREA

On the opposite end of the department is an even larger work area with wide open spaces and lots of apparent natural light. The enchanted windows have a beautiful view that occasionally changes. The divisions here are in separate areas but are not too far of a distance from each other.

Each of the division heads has an office. Every member of the MMAO, CMEC, and IUMO has their own permanent desks. The Wizengamot are based here but spend much of their time down in the courtrooms. However, they each have their own secure locker and you may on occasion find one or two of them working at a spare desk or going through a stack of court files and case histories.

The Forensics lab, a large storage room, the Evidence and Pensieve rooms, as well as the direct floo access aren't all too far from here. The conference room and the Department Head's office are a bit more of a walk. Make sure to keep a map on hand in case you lose your way the first few times in this department.

Halfway between the north and south side work areas, you will find the door to the dedicated Neo-Alliance Investigation Offices.
09-23-2022, 03:35 AM
#26 (permalink)

DMLE & DMT

Merperson




Join Date: Oct 2006

Location: Baker Street

Posts: 29,229


Hogwarts RPG Name:
Rajesh Atreyu-Rehman

Ravenclaw

Sixth Year


Ministry RPG Name:
Simon Spencer Bennett

Law Enforcement

x8 x8

Toothless - Napoleon of Crime - Gryffinclaw - Owl Emissary - Pirate Auror - DoctorDonna

---

A lighter bit of drama within the 30+ years of his working at the ministry…that might be considering a tall order for his memory.

One set in particular came to mind but before he could speak they were joined by another in the office. Ronan had joined and spoke on some of the more dangerous happenings of the Ministry in the last several years. The war of course having had effected more than just the seat of wizarding world government and Hogwarts and needed no elaboration. Simon wasn't sure what to make of the younger man who he in some ways still saw as so new to things, the downfall of being the old man of the department. Though he almost wished perhaps this conversation had been happening in his office…less chance of interruptions.

Well, he hadn't officially taken it back as of yet.

Not that he was making his feelings noticeable, his attention brought back to Sookie to give her an answer to her question, merely nodding at her thanks directed at both of them. All in the days work after all. "There are always the various ministry elections," he mused innocently enough given one of his companions. "Always entertaining if not what one is entirely expecting."

__________________

---

Last edited by Holmesian Feline; 09-28-2022 at

02:52 AM

.
Posting Rules

You may not post new threads

You may not post replies

You may not post attachments

You may not edit your posts

---

HTML code is Off

---
All times are GMT. The time now is
10:47 PM
.