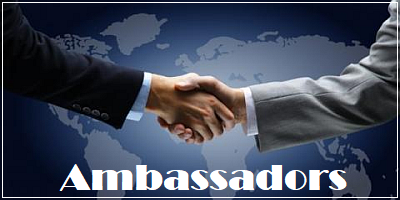 If you are looking for the Ambassador records you can find them on Level five in the filing cabinet right above the employee records. Just ask the Coordinator or one of the other employees and they can get you the names pretty quick.
Quote:
Ambassador-in-Residence
Ambassadors-in-Residence represent the UK and attend international meetings, banquets /parties, and acts as a figurehead for their country of origin. Ambassadors are responsible for smoothing relations between countries, especially in the highly sensitive areas of politics and trade. In addition, they send information about economic and political development in their host country to their home abroad. Ambassadors also assist travelers from their home country, explain foreign policy, and evacuate refugees from hostile environments. This position requires members to live abroad for extended periods of time. The ability to speak a second language is required for this position.
OOC: This position is not technically a MoM position and does not require MoM placement to participate. If you are interested in filling an Ambassador-in-Residence role, please fill out the following application:
Ambassador-in-Residence Quiz
Ambassador-in-Residence positions are filled on a first-come-first served basis.