Students: 9860
Classes: 15
Professors: 13

Greenhouses Grand...
by MadAlice
DADA Lesson #1
by Holmesian Feline
Ground Floor: Entrance Hall
by MadMadamMalfoy
Ground Floor: Great Hall
by aRogueOne
Grounds: The Climbing Tree
by Kolyander
If this is your first visit, be sure to check out the FAQ by clicking the link above. You may have to register before you can post: click the register link above to proceed. To start viewing messages, select the forum that you want to visit from the selection below.
| | |
| --- | --- |
| Grounds: The Forbidden Forest | |
Grounds
Have a case of cabin fever? Then go see the groundskeeper, hang out by the lake, or explore the expansive school grounds.
08-20-2022, 08:24 PM
The Forbidden Forest
---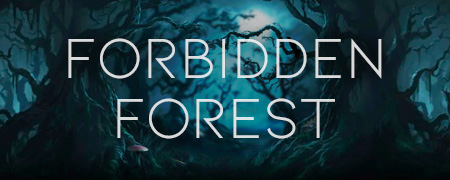 Graphic credit: Felixir
At the very edge of the school grounds lies the Forbidden Forest, huge and sprawling, as seen from the vantage point of the castle. While this place has its uses, its intriguing secrets, and is called home many creatures and beings, it is also dangerous. You should safely assume that all the rumours you've heard about the Forbidden Forest are true, and keep a safe distance from the treeline. Who knows what may be lurking in the shadows? The place has an ominous and foreboding aura about it, not that you should be getting close enough to truly feel it.

In case the name is too subtle a hint, the Forbidden Forest is strictly off-limits to all Hogwarts students. No student is to enter the Forbidden Forest without staff accompaniment. That is a firm school rule. And no, before you ask, Professor Hernandez is NOT going to be swayed otherwise.

Students lurking at the edge of the Forest should be prepared to be treated with the utmost suspicion by any staff member who happens to spot them. Those with anything resembling good sense will give the entire area a wide berth.
09-19-2022, 02:26 AM
#2 (permalink)

DMLE & DERP

Giant




Join Date: Nov 2006

Location: Wonderland

Posts: 57,647


Hogwarts RPG Name:
Logan Paton

Gryffindor

Second Year


Hogwarts RPG Name:
Dafydd Johanson

Hufflepuff

Sixth Year


Ministry RPG Name:
Franklin Paton

Law Enforcement


Ministry RPG Name:
Jordan Hicks

Ecological Protection


x8 x8

Chellie/Vera

Bathes in Maple Syrup | Dancing Lobster | Mrs. Charlie Weasley | Seneca's Beard | That's So Fetch

---

It was October now, and the sphinx that had been introduced to them all last term had yet to be seen. The thought of the sphinx occurred to him over lunch, which then prompted a conversation with Vera. They were supposed to have gone looking for the creature at the end of the last term, but, as to be expected, a food coma got the better of him. So it was only fitting that they go looking for it now.

Determined to see the sphinx and thrilled by the concept of putting off homework, Logan had dug up the very unfinished drawing of the Forbidden Forest he had buried in his trunk and then made a quick stop at the kitchens. The visit, however, hadn't been brief at all as the second year felt the need to help himself to a little snack before filling up his satchel with various foods intended for the sphinx.

"Any thoughts on how to get her to come out?" he asked Vera as they made their way across the grounds. Sure, they had food with them, but they didn't even know how deep into the forest the sphinx was. "Or do you think we're gonna have to go in?"

__________________



09-22-2022, 11:52 PM
#3 (permalink)

Fanfiction Mod
4 Privet Drive ModDERP & DMGS

Alley Proprietor



Grindylow




Join Date: Sep 2007

Location: State of Confusion

Posts: 14,320


Hogwarts RPG Name:
Evan Nam

Ravenclaw

Seventh Year


Hogwarts RPG Name:
Vera Brinley Thanatos #fea116

Gryffindor

Second Year


Ministry RPG Name:
Baek Ho-Sook

Ecological Protection


Ministry RPG Name:
Rosemary Giana Scardino

Games & Sports


Diagon Alley Employee:
Ece Arslan

Nesting Occamy Rentals

Anashti l Brat Pack l Sally & Dr. Finklestein

---

While normally Vera wouldn't have even considered colluding with Logan without her brother's involving him, their new house camaraderie had made her start viewing him more as a potential ally than just a target. She often missed having Vasco to be able to plot with in the evenings, but... at least her twin's best friend was probably also experiencing that issue which gave them some common ground.

Plus. He was also interested in the Sphinx. AND the Forest it seemed, which was two additional points she could very much share enthusiasm on. Getting to explore the Forest was like... her life long GOAL. So when he'd suggested they carry on their plans from the previous end of term feast, she hadn't even considered saying no.

Even if it was probably far too bright in the day and out in the open to do this. C'est la vie.

Following along after him to the kitchens and then out towards the ground, Ve jogged to keep up, the occasional hop!skip thrown in JUST because of how excited she was. The question on if she had any type of a PLAN had Vera giving him a skeptical look before shaking her head. She was not the planner of the party - that was their token Ravenclaw's job. AND to generally keep her out of trouble. Did he do that for Logan too? A large portion of her wanted to just appeal to going straight in and to look around. But they also didn't really know the size of the Forest, basic map as handy as it was, and they didn't know where she'd made her house. As much as Ve wanted to go rushing in... the idea of meeting an acromantula leaden her feet just the wee bit.

"She seemed super playful! Maybe if we play a game or.... call out riddles or something she'll come? Do you know any good riddles?"
Posting Rules

You may not post new threads

You may not post replies

You may not post attachments

You may not edit your posts

---

HTML code is Off

---
All times are GMT. The time now is
01:23 AM
.