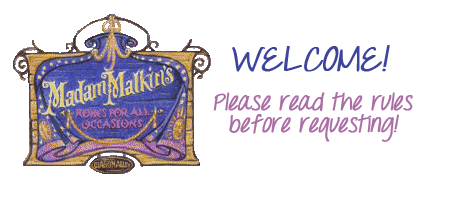 Like all forums, Madame Malkin's needs rules. These are the rules for the graphics part of this forum as of
February 4th, 2014
.
Graphic Makers
All SS rules apply.
Madam Malkins threads now have prefixes. Prefixes are the bolded colored letters you see in front of the the thread titles. When making your shop, pick a prefix according to the kind of shop you'll be starting: REQUEST SHOP or a GRAB-BAG.
All header images cannot exceed 450 pixels in width and 200 pixels in height.
It must be clear in the first line of your text if you are taking requests, just a grab bag or both, plus what types of images you are willing to make avatars, signature banners, or wallpapers.
Please state clearly any rules you might have for your thread.
There can be a maximum of five displayed examples of your work in the first post, if you have more examples they should be put under a [photocut] tag.

Quote:

Information about Photocut Tag

The coding is [ photocut ] and [ /photocut ] (remove the spaces). You can add text if you add an = then the text inside the front code. Example:

Photos!: Gryffindor Images

The only examples allowed outside a [photocut] tag are images that meet SS Rules, so wallpapers, bigger banners, etc should be under a tag.
When you make a graphic for use on SS, please follow the SS limits for avatars and signatures so that the image can be used immediately. This helps the SS Siggy Changers a lot.

Avatars: 20 kb and 100 x 100 pixels
Signatures: 60 kb and 450 x 200 pixels
PP and Bio pics: 60kb and 350 x 350 px
Regarding GIFs: As of this moment forward, all gifs posted in this forum, either as a reaction to something OR as a request MUST be under 60kb AND under 350x350 pixels. The reasoning behind this new rule is that GIFs are often large and very image heavy (meaning they weigh more than 60kb) and often make it difficult for users with slower connections to load pages and can actually be very detrimental to the site's speed as a whole due to bandwidth limits. If you would like to request a GIF/share a GIF with someone (as a reaction to their awesome graphics, for example) you that is LARGER than the size listed above, you must link to the GIF as long as it is posted IN YOUR OWN Photobucket account. Anything else is considered hotlinking.

Show respect to all that use this forum. If you have any problems, please contact a Malkins mod.
If you are going to be absent for a while, please let one of the Malkins mods know so we can close your thread temporarily, which saves you from a bunch of requests when you get back OR be sure to post that you are temporarily closed in your shop to prevent people from requesting.
Plagiarism is not allowed on SS at all, and you will be severely punished if caught plagiarizing. This INCLUDES asking someone to alter someone else's graphics OR redo a graphic someone else made for you because you were unhappy with the graphic the first time.
Requesting Members
All SS rules apply.
Read all first posts of each shop so that you know the rules of that graphic maker. They can differ between threads.
If you provide an image to your graphic maker it must be SS appropriate. This includes no swear words, provocative photos, etc.
Please be patient when you request something from a graphic maker. It may take some time for them to get round to you, especially if they are popular.
Do not request the same thing in more than one shop. Its rude and unnecessary and makes the graphic maker feel like you don't trust their judgement in making you something awesome. Please make a choice and stick with it.
Please show respect to all that use this forum. If you have any problems, please contact a Malkins mod.
Do not edit or have someone else edit work of another graphics maker.
Do not SPAM in graphic makers threads, please.
Inactive Policy
Here at Madame Malkins, our inactive policy stands as this: If the thread maker has not posted within a month, one of the Malkin mods will close the thread. Once the thread is closed it will be moved to the sub-forum, Graphic Archives. The thread maker can PM one of the Malkin mods to reactive their thread.
Thread Moderation
As of August 2013, all new threads in this forum will need to be approved by an MM's mod before opening. This allows us to double check the first post, make sure all rules are followed and all examples/images abide by SS rules, and then it will be open for business!!
Turnaround time for this should take a day at the MOST (most often only a few hours).
Submit Your Signature Here
If you would like to show off your fancy new siggy made here in MM's, the
Submit Your Signature Here
thread is now located at the top of the forum. Please refer to the first post of that thread for guidelines on how to submit your signature.
Fanart
We aren't all about graphic making here--we also want to give you opportunities to show off your drawing and painting skills as well! There is an entire section dedicated to fanart which can be found
here
. Please refer to the guidelines before making a thread and be sure to follow the rules!
Competitions
We love to have competitions here at Malkins for signatures, avatars, blinkies, dolls, whatever! However, because so many similar contests have been spurting out, we have enforced a new rule. If you are starting up a competition please PM a Madam Malkin's Mod for approval. Be sure to send us a complete rough draft of the FIRST POST of your new thread so we can read the rules and make sure your thread is A-OK to go before you post. You will then, if approved, be prompted to post your competition in the Competitions List, found
here.
Members interested in the competitions should check there to see what is available. Please also note the
additional rules
for competitions stated in the Robes Display rule thread.
The Sketch Pad Graphics Challenge
Just like the SS 100 Challenge in the Fanfiction section, there is a grab bag challenge for all of those graphic makers who are feeling ambitious and want to try their hands at something new and creative. Please refer to the rules which are posted
here
to find out more information and to sign up!
Malkins Moderators
These are the people you should turn to if you need any help at all within this forum. Our inboxes are always open, so please don't hesitate to ask any questions you may have!
MuggleDinosaur
and
hermionesclone
Useful Links
Snitchseeker Rules
Competition List
Sewing Lessons
(Tutorials on how to make graphics)
Colin's Corner
(Questions about GRAPHIC MAKING should go here. If you have a question about how the MM's forum works, please PM a mod!)
The Sewing Kit
(A place to find Photoshop materials such as textures, brushes, etc.)
Remedial Potions
(A grab bag "dump" thread where you can advertise your grab bags)
Most of all everyone have
FUN!!