Students: 9848
Classes: 15
Professors: 14

Seventh Floor: Hogwarts Presents:...
by AlwaysSnapesGirl
Office of Professor...
by ArianaBlack
Grounds: The Wooden Bridge
by AlwaysSnapesGirl
Fourth Floor: Library
by Kolyander
If this is your first visit, be sure to check out the FAQ by clicking the link above. You may have to register before you can post: click the register link above to proceed. To start viewing messages, select the forum that you want to visit from the selection below.
| | |
| --- | --- |
| Law Enforcement: Interrogation/Viewing Rooms and Holding Cells | |
Charles Hollingberry Era
All historical records pertaining to Ministry of Magic RPG under Minister for Magic, Charles Hollingberry [IC March 2097 - present; OOC November 2018 - present]
06-14-2020, 06:43 PM
Interrogation/Viewing Rooms and Holding Cells
---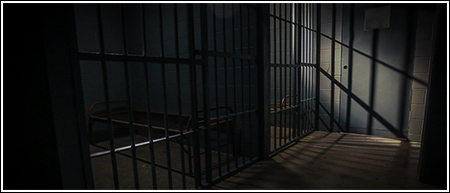 INTERROGATION ROOMS
The interrogation rooms each have an unbreakable, one way mirror and a heavy door on one wall. Behind the mirror, of course, MLE employees can stand and observe the interrogation currently being conducted. These mirrors are charmed and not always activated. Sometimes they simply appear to be mirrors on both sides. Any investigation carried out within these rooms will be recorded in pensieve form for later review.

There is no escaping these rooms but likewise, if you're within one, you'll be perfectly safe from anyone seeking to cause you harm, unless said person happens to be the employee who brought you in here. Not to worry, while some rough housing does happen from time to time. Law Enforcement officers are required to leave you alive and in relative similar condition to when you'd been brought in.



ROOM 1:
ROOM 2:


HOLDING CELLS
The holding cells are sparsely decorated, closed off with heavy bars. The inside has table and a chair, as well as a makeshift bed which are all secured to either the wall or the floor. In some cases, both. A light hangs from the ceiling. Despite the precarious way it swings gently this way and that it is just as securely held in place and cannot be removed. It casts a yellow glow that is constantly and lazily in motion around the gray room. It may be in your best interest to ignore the occasional screams that come from the neighbouring cells. Not everyone can accept the concept of confinement. Don't be one of them.

There is no escaping these rooms but likewise, if you're within one, you'll be perfectly safe from anyone seeking to cause you harm.



ROOM 1:
ROOM 2:
ROOM 3:


OOC: The only people allowed to post in these rooms are MLE employees including the department head and those who are being held in the Holding Cells. All others will be deleted, unless you have permission from Felixir.

04-24-2021, 01:28 AM
#51 (permalink)


Site Manager

MO



Centaur




Join Date: Sep 2003

Location: *Nom nom nom*

Posts: 42,640


Hogwarts RPG Name:
Phoebe James

Sixth Year


Ministry RPG Name:
Genevieve James

Minister's Office


x7 x8

Made of Awesome | Ern-la the Best-wa | TZ's Apogee

---

Vivi waited until the door opened so Nem could escape and Upstead could enter, and she banished her paperwork back to the filing cabinet by her desk. It would lock itself up tightly, so she wasn't worried about her notes.

She also wasn't worried about her employment status, although perhaps she should have.

"Upstead, I've been interviewing witnesses and suspects for almost twenty years," she banished the cup that Nem had ignored to the trashcan and made a point of ignoring Fletchley. Or whatever his name was. "Anyone with any sense of the rhythm of an interview would tell you that this particular interview was a mess. No rhythm. No ability to build rapport with the suspect. No opportunity to find out what happened to all those other Neo-Alliance idiots that weren't smart enough to turn themselves in. And that's not down to me having. A. Bad. Day."

__________________

★ Dawn ★

Awakening ★ Spiritual ★ Hopeful ★ Honest
05-01-2021, 12:26 AM
#52 (permalink)


Quibbler Mod



MO & DMLE

Sphinx




Join Date: Dec 2008

Location: ¯\_(ツ)_/¯

Posts: 48,636


Hogwarts RPG Name:
Kamran Kazmi

Graduated


Student Character:
Nemesis Upstead

Sixth Year

Slytherin


Ministry RPG Name:
Jake Upstead

Law Enforcement


Ministry RPG Name:
Kaiser

Minister's Office


Diagon Alley Employee:
Ezekiel Ransom-Kruus

Ollivanders

x12 x12

Lovely™ | Captain Hurted | Ariana's Bane | Resident Antagonist | Unparalleled Delight

---

Jake had the sneaking suspicion Genevieve James was implying that the interview had been his fault. Alright, yes, he had called Fletcher here when that had not been entirely necessary, or even protocol. It had been a lapse of judgement where the execution of the interview was concerned, but Jake didn't totally regret that course of action. The wisest thing was to go to a higher up, and Fletcher was as far as it was possible to go right now. And yes, this wouldn't have been an issue had it not been for his very own child, who came not only from Jake's genetics but also his child-raising non-abilities. Becca too, but she was faultless, especially where the kids were concerned, and no mistake.

He could take responsibility for Nemesis, because they were his child - his dependent - but that was it. Jake's natural response here would have been to figuratively rear up, get defensive, but by the grace of Merlin he kept his temper, uh... tempered.

"It- it could have gone better," he agreed, rubbing his chin and looking over at James. "But it is adding up a bit more now, and there was some useful information in there. Even-..." Jake trailed off, abandoned the sentence entirely. "... I'll bring them back in, when things are less... tense." The glance he shot between James and Fletcher was not exactly pointed, but was hardly subtle either. He wasn't just talking about the two of them, but Nem and whatever state they were in at the moment. Regardless of Jake's concerns, if this Rosier bloke really had his claws in them for so long... actually, if his suspicions were true, that almost seemed worse. Fletcher was right; the kid was going straight into counselling. "They'll help with these other suspects, I'm sure."

That was a lie. Jake wasn't sure of anything. He still wasn't even certain if his child was a hero or simply a murderer, or why that thought didn't destabilise him in the way he thought it ought to. It barely seemed real, though maybe that was because it was all hitting a little close to home, in more ways than one.

__________________


it's no big surprise you turned out this way _____ _____ _____ _____ _____ _____ _____ __.

when they closed their eyes and prayed you would change

Posting Rules

You may not post new threads

You may not post replies

You may not post attachments

You may not edit your posts

---

HTML code is Off

---
All times are GMT. The time now is
04:58 AM
.