Students: 9818
Classes: 15
Professors: 13

If this is your first visit, be sure to check out the FAQ by clicking the link above. You may have to register before you can post: click the register link above to proceed. To start viewing messages, select the forum that you want to visit from the selection below.
| | |
| --- | --- |
| Dirigible Plums: Through the Spectrespecs (and what Luna found there) RP | |
Wrackspurts and Roleplays
The St Mungos out-of-your-comfort-zone RP event! Come and join us for some Roleplaying antics, discussion, and fun!
08-01-2019, 12:42 AM
Through the Spectrespecs (and what Luna found there) RP
---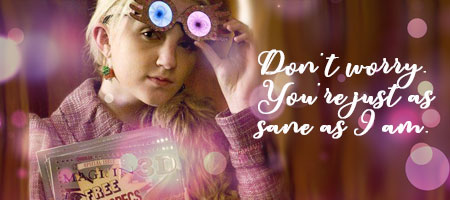 Through the Spectrespecs (and what Luna found there)
Do you tend to create and RP a similar type of character? Are you more comfortable playing student age or within a certain house? Would you like to try something new and step outside your comfort zone? Then this RP is just for you! Even if you find an easy time playing a wide variety of characters and personalities, you are still welcome to take part. Simply complete this quiz by Aug 7, answering with the traits that you normally give your characters or feel most comfortable with. Once submitted, you will receive a character customly created for you to use in a special RP in this thread, though the character may not be exactly what you expect….

When you receive your character, post in this thread with the traits given to you and create at least a minimal bio (or link it here from the bio thread!) - name, picture, and history is up to you, within the specifications given. Please post here by Aug 12 and then we will start the RP - a collection of scenarios inspired by Luna Lovegood's experiences throughout the Harry Potter series.

08-15-2019, 02:55 AM
#2 (permalink)

Newbie & Mungo's


DMT & DMGS

Blast-Ended Skrewt




Join Date: Jun 2008

Location: working

Posts: 16,448


Hogwarts RPG Name:
Gunnar McCarthy

Sixth Year


x12 x5


Ministry RPG Name:
Kendra Jordan-Durand

Transportation


Ministry RPG Name:
Milo Jordan

Games & Sports

Unforgivably Cursed

---

You have received an invitation to a mysterious dinner party and overnight stay at the lavish Browless Manor in a remote town in Devonshire. Even if you are skeptical, there is something intriguing about the invitation, something that implores you to attend. There is no RSVP on the invitation, as your host simply expects you to be there, but it does include the date, time, and address. There is also mention of one vial of felix felicis being given to one lucky guest.

Once you arrive at the manor, you are ushered inside by a hurried butler who requests that you remove your shoes while he takes your coat and bag, if you brought them. Though he keeps you at a brisk pace with little opportunity to look around, you can't help but to take in the curious interior. You might think by the manor's large exterior that the inside would be quite lavish, and while there is an air of distinction about the decor, it also has a sense of whimsical oddity and likely not like anything you've ever seen.

But what might be more than a little odd are the numerous painted portraits lining the walls, each resembling one of the guests in attendance tonight. No, they are not magical portraits and will not speak or move, but it is still an uncanny addition to the decor as you walk past them. You are then led into the spacious drawing room where the butler informs you that your host will be along shortly before he exits the room as he closes the door behind him.

While the room is quite large and grand, it might also be noticeable that there are no windows. There are plenty of strangely-shaped, overstuffed chairs and small sofas throughout the drawing room, as well as unusual artifacts and colorful odds and ends scattered about on the various end tables.

Feel free to look around the room and mingle with the other guests while you wait for your host to arrive. You probably have many questions.


OOC - If you received a character through the Through the Spectrespecs submission, then congratulations! They have received this invitation. Please post your character arriving and responding to their environment/each other so we can begin! Please remember to either link your bio in your post or provide it under a spoiler in your post.
08-17-2019, 02:43 AM
#3 (permalink)

WWW Mod


DMLE & DoM

Norwegian Ridgeback




Join Date: Dec 2008

Location: ¯\_(ツ)_/¯

Posts: 46,138


Hogwarts RPG Name:
Kaiser

Sixth Year

x12 x12


Ministry RPG Name:
Jake Upstead

Law Enforcement


Ministry RPG Name:
Jasper Beaufort

Mysteries

5. You can't use the word "said" in your post.

tag yourself i'm felix | daxton prince was here | schrödinger's tag

---

This was all very

mysterious,

wasn't it?

Exciting,

really, and terribly

intriguing.

Perhaps

Effie

should have been a little bit more suspicious, or at least cautious, about the whole thing, but she was really just thrilled to have received her invite. And a vial of Felix Felicis? How wonderful! She wouldn't mind getting her mitts on that.

So, here she was, at the Devonshire manor, having shed her shoes as per the instructions. Even as she followed the butler, Effie did her best to take in the interior design, and was pleasantly tickled when she thought she recognised her

self

in one of those curious, completely still portraits. They moved on before she could really get a good look, but all the same!

Before long they were all in the drawing room, waiting for the host to grace them with their presence, and Effie finally had a solid chance to have a good look around. She was actually incredibly torn between finding someone whose ear she could talk off and nosing around the trinkets, but her desire to see if their mysterious host had any neat salt and pepper shakers was what swayed her.

__________________

Weasleys' Wizard Wheezes ~ Grab Bag Challenge ~ Ficlets ~ Drabbles ~ My Characters.

May I never be _C O M P L E T E._ May I never be _C O N T E N T._ May I never be _P E R F E C T.
Posting Rules

You may not post new threads

You may not post replies

You may not post attachments

You may not edit your posts

---

HTML code is Off

---
All times are GMT. The time now is
09:21 PM
.