02-10-2019, 11:00 PM
Matchmaker, Matchmaker
---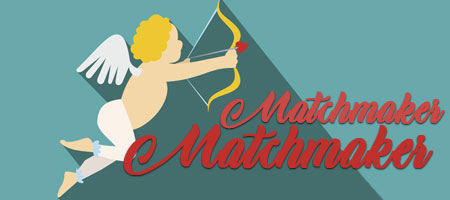 Neighbouring TerrorTours Wizarding Travel Agency stands a building that, though quaint, is hard to miss due to its vibrant pink exterior. Matchmaker, Matchmaker is Diagon Alley's finest (well, only) matchmaking service that has been family-owned for generations. The words on the large window boasts as much, claiming that the establishment has been helping witches and wizards find love Amortentia-free since 1985.

The interior of the shop is no less frilly than it is outside. Pink continues to dominate every inch of the small space, along with an array of brightly coloured flowers, intricate lace doilies, and a number of Cupids that are fluttering about with bows and heart-shaped arrows at hand. Hundreds of pictures adorn the walls, all of which feature many happy couples that have met through the matchmaking service. Everyone is all smiles as they move about within the golden frames that forever encapsulate the blind date that was carefully orchestrated for them.

Located in the middle of the shop is a fairly large desk at which owner Juliet Raphael is often sitting at, reviewing applications and deliberating on what matches to make. If you or someone you know are in need of a little spark in their love life and just need to get out there in the dating world, feel free to grab an empty application from the stack on the desk and let fate take care of the rest.



Text Cut: Matchmaking Process

Text Cut: Matchmaker, Matchmaker Pairings

This shop is STAFFED by Juliet Raphael.